Special Ceremony Alchemist
"Forever Connected in Spirit"
I believe that marriage is one of the most sacred commitments you can make.
You might ask how long have I been doing what I am doing and how did I become a minister and wedding officiant?
To answer this question, it's probably best that I share with you a little background and the defining moment that brought me to where I am today.
The defining moment in my life that moved me spiritually happened in June 2002 when I first graduated from the school of ministry. I was a new minister with lots of hopes and dreams. I was open to discovering how my ministry was about to unfold – and that's when my friend called. She asked me if I would officiate her father-in-law's second marriage. Huh? Who me? I was unsure and not very confident at all with my speaking skills.
Wow, she wants me to do this for her? Little ol' me? My discomfort eventually changed to Well, I'll give it a try!
I researched, practiced, and spoke from my heart. Voilà! I did it!
I married two people! That was the most rewarding and amazing experience I had ever had!
Being in the presence of my first couple, guiding and ushering them into a Sacred Union, gave me goosebumps!
I had no idea how that day would influence my ministry for many years to come. I believe something very precious took place during that first ceremony. I became a channel. A surge of energy flowed through my heart and out of my mouth. In that moment, my words created a synergy that surrounded them with love and light. I saw it and felt it.
From that moment on, I decided that Sacred Ceremonies would be a significant part of my "calling" as a minister.
But I didn't want to be just another minister officiating weddings; I wanted to help couples create true "Sacred Contracts" that were memorable even when things got tough. In order for this to happen, I had to create a process that was a little different from what was already being done. That is when my "Sacred Process" was born.
The "Sacred Process" I created not only enabled me to officiate the Sacred Ceremonies but also helped couples pour their love and intentions into their wedding vows, even if they felt they weren't creative themselves.
I believe that the Sacred Process takes my clients on a journey of learning about who they are as a couple and why they are meant to be together. Through the Sacred Process, which includes spiritual tools, the Sacred Ceremony and vows will reveal themselves – vows applicable to their lives that will carry them through all the adventures they will face together.
Through these last 16 years, I have officiated over 350 weddings! I am living my dream, enjoying meeting every one of my clients, coaching couples to prepare for their sacred marriage.
Over the years, I have realized that many couples don't belong to a particular church but DO believe in a power greater than themselves. As an interfaith minister, I understand and know that all people celebrate faith in their own personal ways. I support this religious diversity; and through spiritual alchemy, we will co-create a unique "contract" that honors belief systems and expresses a Divine love.
There is a "Golden Thread" of Oneness in many faith traditions that connects us with God or the Universal life essence. In preparation for each Spiritual Contract ceremony, I refer to the Judeo-Christian Bible and many other sacred scriptures.
If you want to be forever connected in Spirit with your beloved, then join me in this journey of discovery, ease, and grace. I can Relieve your stress. Let me do the work for you!
You might ask who are my clients?
My clients are couples who want to experience a joyful, yet sacred time during their ceremony. They want an intimate feel, during which there may be a time of giggles or tears. They want to be surrounded by guests who are there to love and support them in celebration of their union.
I embrace:
Interfaith, spiritual, non-denominational, Christian Sacred Contracts, and more!
Couples in their 20s or 30s 40s or 80s !
Large weddings or micro weddings
Second marriages, third marriages, or fourth marriages!
Same sex couples
Vow renewal celebrations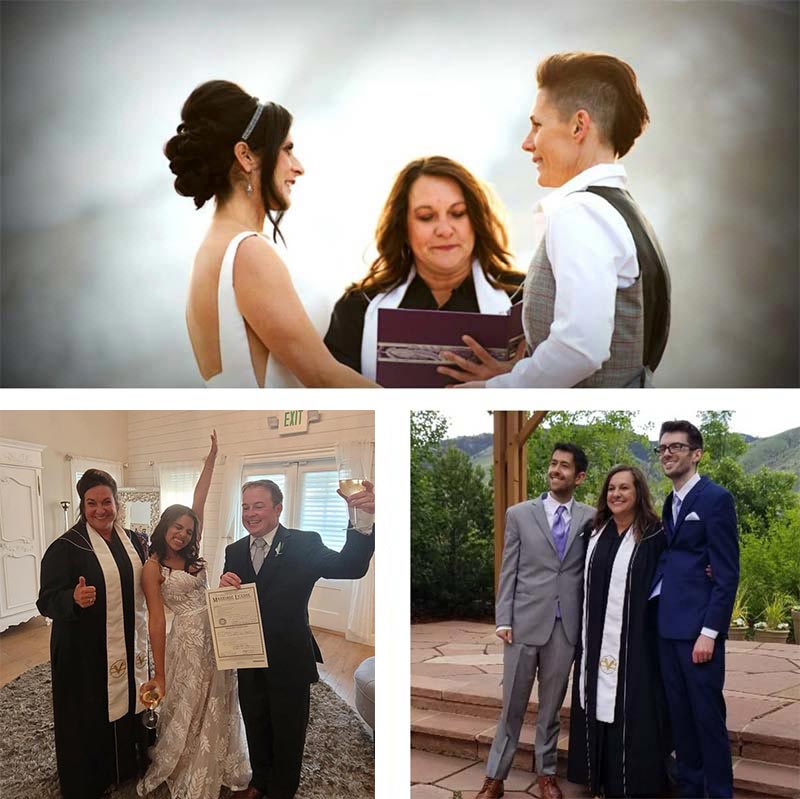 You might ask what makes me different from other officiants?
My faith background includes 30-plus years of study in metaphysics and spirituality, affiliated with Holmes Institute in Lakewood, Colorado, Centers for Spiritual Living (www.CSL.org). I received my ministerial license in 2002, ordained in 2007. I officiate Sacred Ceremonies for people who value feeling connected at the deepest level and want to experience a joyful and sacred time during that most intimate moment of their lives, their wedding.
My experience and energy provide ease and grace for your sacred day. I come from my heart when I work with my clients and their families!
I enjoy learning about how they became a couple, about their proposal stories or their "first-time-we-met" stories. I want to get to know each couple so I can tell their story, be a part of their support system, and present those precious moments to their guests.
We can meet on Zoom, at Starbucks for a cup of coffee, or over a beer. It is important to connect on a heart level. Sacred Contracts are about love—both the clients' and mine—so that we can spiritually alchemize (create) your unique ceremony together.
Sacred Contracts may include a (your choice):
Rose ceremony
Shadow box with love letters
Celtic handfasting as they "tie the knot"
Prayers or blessings
Wine unity, whisky barrel
Sand pouring or candle lighting
Tree planting
Fur-baby-inclusion ceremony
No matter which ceremony you choose, it will express and symbolize your love for each other with sacred, personalized, and meaningful vows that we will write together (yes, I help you with your vows). I guarantee your ceremony will be personally blessed from my heart to yours!
You might ask what type of couples do I work with? I work with people who…
Are heartfelt, compassionate, fun-loving, light-hearted, sincere
Want to include their guests in celebrating their day
Are committed and invested in their future and a conscious marriage.
I believe that marriage is one of the most sacred commitments you can make. When you take the time to complete the pre-marital questionnaire and delve deeper into your answers with Rev. Lisa, you will build skills and take away tools to make your relationship stronger! -Lisa A Williams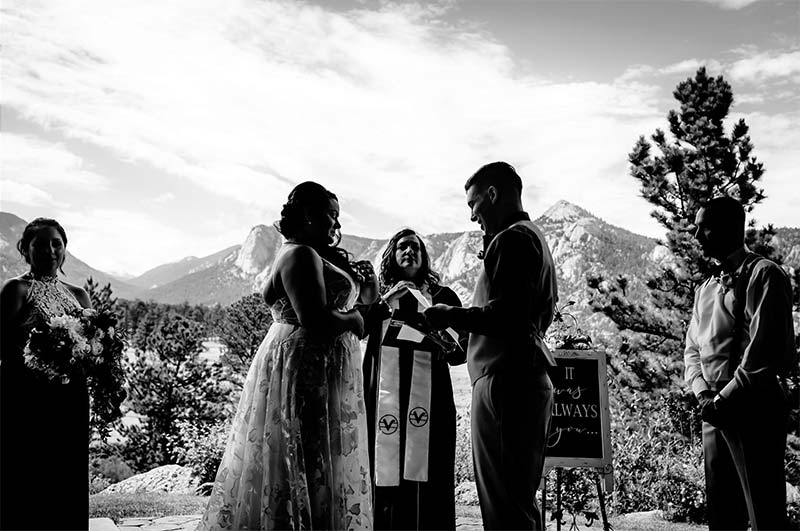 You might ask what type of ceremonies do I NOT perform? I do not perform ceremonies where…
The couple wants someone to show up the day of, fill in the blanks, and not take the time to get to know them
A judge will do
A cookie-cutter script would work as well
The officiant (friend or family member) is inexperienced and acquire their license online
The couple is looking for a bargain-basement or non-professional minister
Do yourself three favors:
Allow me to support you on this journey. Let's work together to create your sacred contract, a unique ceremony, and vows for your wedding day! Email me to set up a free 15-minute phone call. Let's see if it's a fit at Revlisaweddings@gmail.com or https://innerdazzle.as.me
Connect on my Facebook page for more info and articles on weddings and relationships facebook.com/weddingrevlisa
Subscribe on YouTube for access to the live InnerDazzlellc Show, recorded prayers, and One Minute Pause to enhance your spiritual self.
Doing these three things will introduce you to me and my work. If it's a fit, we can, together, design your unique and magical ceremony!
What is the Sacred Process?
As a Sacred Contract Minister and Special Ceremony Alchemist, I have four steps to create your ceremony and vows:
Couples Inquiry: This is designed to acquire knowledge about each couple, how they met. I like to become familiar with each person's viewpoints, first impressions of each other on the first meeting, details of the first date, favorite memories, the history and romance of it all!
Connection: I connect from my heart to yours. We spend time talking about your adventures. Once I get to know you, I can intuitively guide you to the next steps to creating this profound experience in your life.
Sacred Vows: I provide a template to guide you in delving into your innermost feelings and sentiments as you write your vows (a "love letter with intent") to your beloved. I provide tips, examples, and suggestions to make this an easy-peasy process!
Completion: The sacred ceremony will be ready to go by your wedding day.
What results can you expect?
A magical marriage ceremony! All the information you need for the order of service, co-creating your ceremony and vows, including suggestions with poems, scripture and more
Encouragement and tools in getting those vows written and lots of ideas from my heart to guide you
A "to do list" to keep you organized
Writing and research by Rev. Lisa to piece together your ceremony
A wedding packet with the details you will need including fees, marriage license details, wedding planning timetable, tips for your wedding day
Recommendations for day of coordinators, photographers, and DJs.
I am here to support you and listen to your needs and dreams and provide the most sacred part of your wedding day: the ceremony!
What's next?
Let's get started and you can check this thing off your list!
Thirty-minute Zoom consultation where you will…

Discover your sacred connection and brainstorm ceremony ideas
Pick a package that is right for you!

Email dialog and heart-felt conversation to craft your Sacred Contract
Begin to write your ceremony with guidance through your Sacred Vows
Finalize your ceremony!
Reviews:
"My goals for our wedding ceremony were that we made people laugh and that a few people cried. We wanted someone that would tell our story like they were present for every moment of our lives. We met with Lisa and knew that she would be able to provide us with everything we wanted! We met with her a few times before the wedding to chat about our biggest struggles we have so we could start our marriage out knowing that we would be able to overcome any hiccup that we faced. Lisa was amazing on really helping us to see each other and find middle ground on some things we disagreed on. Our ceremony was everything we wanted it to be and we truly feel that we gained a friend in the process. Thank you, Lisa for helping us start the rest of our lives exactly how we had always imagined"!
Melissa & Josh Dec. 2019.
"Lisa was such a great addition to our wedding day! She is such a positive person and great energy to have around . She has a calming way about her that we appreciated very much during our ceremony!! We did a few premarital sessions with her as well, and it was very relaxed and she made it comfortable and easy! She contacted us at just the right times during our wedding planning. We loved working with Lisa for our wedding!"
Jade & Peter 9/2020.
"Thank you so much for all the positive vibes and prayers to help get us to this day! You're amazing and will forever hold a special place in our hearts for your kindness and marrying us on our special day!"
Love Rob & Todne March 2021.
SHE IS AMAZING!!!! I was not the easiest bride by any means, and she was so patient and flexible. My father is a pastor, so I've grown up only hearing him do weddings. She was flexible and was able to work in parts of my father's ceremony with ease. Her voice tone is really calming also. I messaged her the night before because I was stressing out, so she showed up early to the venue to pray/meditate with me in the room alone before walking. She did the same for the groom. Her energy is unmatched.
Emily C, November 5, 2019.
I am here for you, your forever alchemist in Spirit!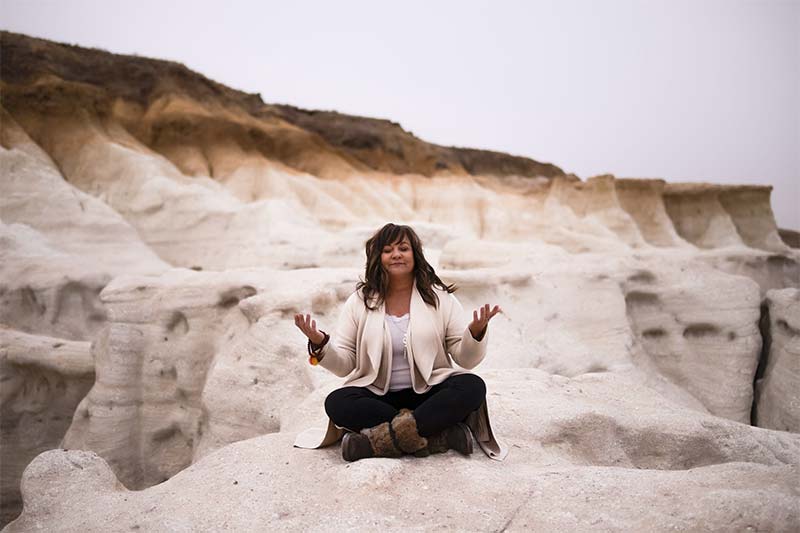 Schedule your 15-minute free consultation https://innerdazzle.as.me/ you will receive a confirmation with an email. Please be ready to work together at the scheduled time.